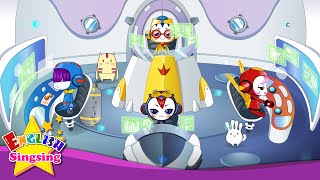 Xem
phim hoạt hình
-
#0 Prologue - English animation music video - Alien Bob's Crew - Trọn bộ 17 tập
Prologue - English animation music video - Alien Bob's Crew
Ready ready! - English animation music video - Alien Bob's Crew
Go straight - English animation music video - Alien Bob's Crew
Hello! - English animation music video - Alien Bob's Crew
Sorry, stop it! - English animation music video - Alien Bob's Crew
Are you okay? - English animation music video - Alien Bob's Crew
How's the weather? - English animation music video - Alien Bob's Crew
Harder, faster, better! - English animation music video - Alien Bob's Crew
Homesick - English animation music video - Alien Bob's Crew
I'm a policeman - English animation music video - Allien Bob's Crew
What's she doing? - English animation music video - Alien Bob's Crewn
To the Zoo! - English animation music video - Alien Bob's Crew
Your Talent - English animation music video - Alien Bob's Crew
Look at the sky! - English animation music video - Alien Bob's Crew
What day? - English animation music video - Alien Bob's Crew
Don't do that! - English animation music video - Alien Bob's Crew
Girls Girls - English animation music video - Alien Bob's Crew
English Singsing! Learn English with songs and stories.
Here is Alien Bob's crew English rap music video category!
Please sing along to the rhythm loudly!
★ us on YouTube: More Our Story: Title: Prologue ---
(Commander's speech)
People of Manta! My brothers.
I see the same fear as me in your eyes. The atmosphere is becoming more polluted each day. A day may come when Manta is destroyed, but it is not this day. Today we dispatched an expedition called Kin to Universe. I am now dependent on them, and confident of his success.
Now It's time for you to board.
Goodbye, my brothers. We will pray for your safe return.
Thanks for checking out the "English Singsing".
© Amanta Inc.